I hope everyone is keeping well. This has been a tough week for many reasons and I have tried to find comfort in writing. Despite hope that I will learn my lesson, I am trying Na.No.Wri.Mo again this year, so I thought I might do a weekly writing positivity post to uplift fellow writers who are attempting it.
I recently watched Whispers of the Heart, one of the few Ghibli films I hadn't watched before. While I felt I would have enjoyed it slightly more had I been closer to the main character's age, I nevertheless liked it very much, and saw a bit of my younger self in it. I do wish I had watched it around middle/high school age, when I knew less about my writing practice than I do now, as I feel it would have helped me with some of my struggles. So here are 5 reasons why I think this is a great film for young aspiring writers (and other artists).
1) It's a fun, uplifting story that contains specks of a writing theory.
The animation might not be as striking as that of subsequent fantasy classics like Spirited Away and Howl's Moving Castle, but as is the case with all Ghibli films, Whispers of the Heart is beautiful in its simplicity. From everyday occurrences, such as visiting a library or following a cat around, to the less mundane antique shop and the and the magical scenes taking place only in Shizuku 's imagination, the animation alone makes for a great viewing experience.
The story itself might not be the most original, and in many ways it is your typical middle school romance. This is not to say that it's not a cute story, with a main character who feels misunderstood but also determined to follow her dreams. even when they feel very far away.
What I loved the most about Shizuku's journey was that I saw my younger self in her. Always writing and studying, looking forward to being able to focus on my book idea, experimenting and very emotional about my work. I think that the theme song "Country Road" that Shizuku sings in one of the film's most iconic scenes isn't coincidental. For many writers, the worlds we build become home, but the road that leads to that home isn't easy, so we have to remind ourselves that it's totally worth it.
2. It's honest about the struggles of balancing life with writing practice.
What happens when you want to be a full time writer but aren't quite there yet? When responsibilities get in the way?
Shizuku's struggle to balance her school grades with her decision to take her writing more seriously – at the expense of sleep and a healthy lifestyle – may resonate with anyone who wants to make their writing practice part of their daily life, but haven't found the right balance just yet.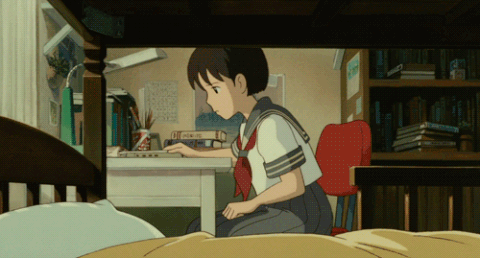 Watching this film after finishing my Masters – and right after deciding to wait before enrolling in full time education again – made me feel grateful that I can currently make writing one of my priorities. It also reminded me that such a thing as a perfect schedule doesn't exist. Putting writing first is a choice many writers might want to make at some point, and it can make all the difference when it comes to completing a project. At the same time, choosing to focus on other priorities, like education, might be just as important and even benefit one's writing in the long run. Whispers of the Heart realistically shows both sides – and the fact that we can't always balance them, but we can get there.
3. It shows the importance of a support network.
When I was around Shizuku's age, I wouldn't show my work to anyone. Not ever. I had this notion that a story had to be polished to perfection before the world could see it, and I wouldn't even mention I was writing, because I somehow thought the statement wasn't valid, unless I was writing something of quality. It took me years to realise this is not how artistic expression works.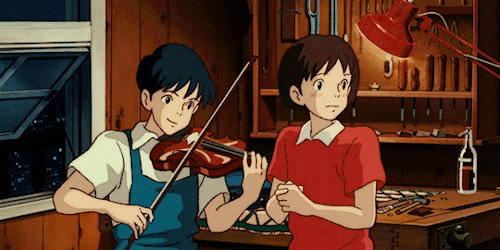 I don't know if it was intended that way, but the scene in which Seiji plays the violin and Shizuku reluctantly agrees to sing felt to me like a foreshadowing of her decision to share her work with Seiji's grandfather, Nishi, and receive feedback. And while her determination to write a story while Seiji's is away starts off as an antagonistic pursuit, there's some truth in the fact that surrounding ourselves with people who are passionate about their craft can inspire us to work on our own.
More than that, the support of loved ones can be very important for a writer, whether or not they are involved in the writing. Shizuku's conversation with her parents, their concerns, but also their understanding of the fact that she needed to prioritise what mattered to her, and their decision to support her even though they were worried, was so important and heartwarming to watch.
4. It tells hard truths about first drafts and feedback.
Most writers at the beginning of their career have felt this to some extent: we want to polish as we go, until we have something perfect, and perhaps this is what discourages so many people from actually finishing something. I'm totally guilty of that, which made me admire Shizuku for getting a draft done the first time. Not that this makes accepting a draft's flaws much easier.
We are invested in our writing. We become emotionally attached to it, and no matter how many resources insist that we shouldn't be, I insist that it's ok. We are allowed to have feelings about what we wrote, because, at the end of the day, how much would it matter if we didn't feel strongly about it?
In that sense, Shizuku's meltdown after voicing what she had pretty much known, that her writing isn't where she wants it to be, feels very relatable. The film doesn't shy away from the fact that writers won't necessarily like the first feedback they receive. At the same time…
5. … it reminds us that it will get better.
Writing well takes a lot of effort. Regardless of one's talent, it's still a skill that needs to be cultivated, and much time can pass without seeing tangible improvement. This means that we can't get enough reminders that it's ok, we are doing our best and will, eventually, get there.
I particularly liked the gem metaphor Nishi used. While by no means the most original, it made me smile, because it's a reminder of all the things each writer has to offer, and will only be able to offer by taking that first step, getting something out there, that is rough, that requires much more learning and effort to shine, but can be polished. And while such a positive, optimistic solution isn't new or unheard of, it is really uplifting.
Have you watched any other films or series that focus on writing? And what other writing posts would you like to see in the upcoming weeks? Let me know in the comments!